Latest Updates from Team Skeet (Page 42)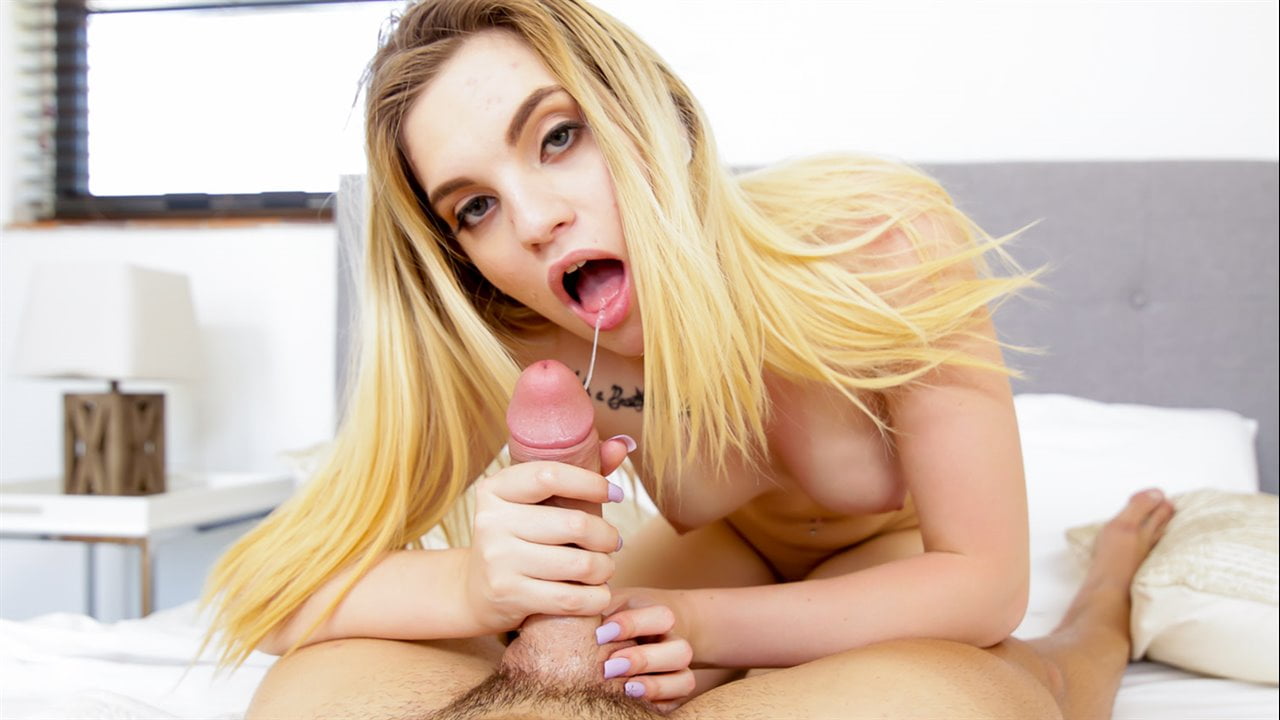 Fun is stunning from head to toe. She has a beautiful face, long blonde hair, and a perfect 10 body. Her parents left for vacation and it seems that her wifi phone connection isn't working. She thinks that her parents may have disconnected her phone or the internet. She is desperate for this connection so she starts looking out the window to see if anyone can help her. Just then, she sees her neighbor Pete taking out the trash. She opens her door and gets his attention. She wants him to help her figure out how to have her wifi back on her phone. He says he is busy and needs to go, but the plea of a really hot girl swayed him into coming to check the situation out. He discovers that her cables were in fact unplugged by her parents. While he is in the closet fixing this, he can't help but notice how sexy Crystal is. Soon, he is sitting next to her and is obviously turned on. Crystal picks up on this and starts to feel up his dick. She strips out of her clothing to reveal perfect tits with nipples you want to suck and bite. Eventually, her neighbor is fucking her in every position possible. The sex is hard, hot, and deep. Unfortunately for this hot blonde teen, it ends with an internal creampie. He wasn't supposed to cum in her, but it's too late now!
Lucie Cline is a stranded and hot teen brunette. She flags down the car of stranger and asks for a ride home. The driver who stops talks to her for a bit about him possibly driving her home. She says, it?s not like he could be a weirdo or anything. He tells her to hop in. She does this right away. He asks her if her parents ever told her not to take rides with strangers. She says they did, but she apparently doesn?t care. When they get to her home she asks if he wants to come inside and play video games. He says he likes video games, but he can?t stay long. He follows her up to her room and asks where the video games are. She says, that she just said that to get him to come upstairs and then asks if he is interested in other fun. She is dressed in the cutest overalls, and is grabbing his dick through his pants. The older stranger protests, but she keeps on trying to seduce him. She strips down and no matter how much he tries to resist, he can?t help getting hard when she starts sucking his cock. Soon, he is fucking her from behind and slapping her heart shaped teen ass as it bounces off his cock. He then takes her missionary and starts pounding her with reckless abandon. She finally gets on her knees and sucks him off for a huge blow job and cumshot explosion all over her face and chin.
Chloe is one freaking hot teen! A teen with natural perky tits, long flowing hair, sexy long legs, and a great body. She is dressing in really sexy black silk panties and matching thigh highs. She strips out of them for her masseur. He starts to rub her down. He takes time rubbing her legs, ass and then starts to creep into her inner thighs. She seems to like this. He starts to gently rub her asshole and pussy. She moans and is clearly enjoying it. She rolls over, and he starts to rub her perfectly waxed pussy. She is enjoying this massage more than she could have ever imagined. She coaxes him into stuffing his hard dick into her mouth as she lays back on the massage table. After some great cock sucking, our hot little teen starts getting fucked on her back, doggy style, and very deeply. Our masseuse is very passionate and has his dick plunged very deeply into her. Finally, he stuff his dick into her mouth and blows his load all over her teen face.