Latest updates featuring Eva Yi
23rd April
- Eva Yi is a tight asian teen who noticed a tall dark black man waiting outside of her house. She found out that he was supposedly one of her fathers b
usiness associates who needed to get paid. She invited this black man inside to wait for him. He eventually wandered away from the living room to see if there was anything he could take around the house to repay what he was owed. Eva caught him and found out that he was not really an associate, but more of a disgruntled fired employee. This built black man asked Eva if she was going to call the police. She said she would not because her dad was a dick and he was being nice to her. The black man then suggested an idea that would really piss her father off. Eva was going to suck his meaty black dick and they would text her dad pictures. She choked on that black mamba with her little asian mouth like it was the last cock on earth. All of the fuckery was filmed until Evas tight pussy was throbbing and her father was royally angry. Never fuck with a dude when he has a black cock and you have a slutty daughter waiting to be fucked!
...Read More
7th March
- Eva Yi is so tiny she can be chased around the house for hours without being caught. She can hide under desks, under chairs, and even in small corrido
rs. When she was finally apprehended, she was promptly fucked in her tight asian pussy. Her holes were reamed with nothing held back. Her tiny fortune cookie was plunged to the limits and she was left covered in a load of creamy boy sauce. Eva gave many thanks for this lovely sexual endeavor!
...Read More
>> CLICK HERE TO DOWNLOAD <<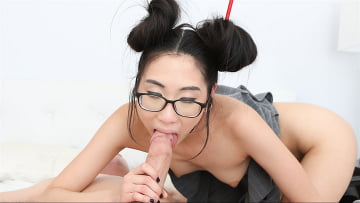 24th June
- Mr.Knight has been eyeing the Asian exchange student ever since she came to live with his family. Eva is a shy quiet bookworm type that is always stud
ying. Such a mysterious little fortune cookie. Mr.Knight has become fixated on her. One day he takes a change when his wife is gone and walks into her room. Eva opens her legs and gives him the invitation he's been dreaming of. He has crossed the line but sometimes lines must be crossed. He walks over and drops his enormous dong onto her head. She sucks the hell out of his dick and soon he is riding balls deep into her wet sushi pit.
...Read More
28th February
- Eva Yi is sick of those lame dating sites where guys just want to meet and talk -- this cutie is looking for a dominant stud to fuck her brains out! T
he Asian doll hooks up with stud/director Bryan Gozzling to satisfy her primal urges. She strips upon arrival. Eva submissively asks permission to suck Bryan's dick. After a sloppy, throat-reaming blowjob, Bryan passionately penetrates her tight pussy. The petite girl rides dick and whimpers through an intense fuck until Bryan decorates her face in cum.
...Read More