Latest updates featuring Lily Rader
8th February
- Lily gets a call from her babysitting company and gets set up with an uptight brash individual who is in a hurry. He tells her not to touch the painti
ngs, dont touch his xbox or playstation and by no means DONT EAT THE CANDY! I cant stress it enough, DONT EAT THE CANDY LILY! Well, once our homeowner leaves for his valentines date, guess what Lily does? SHE EATS THE CANDY! He gets home early because the date went sour and guess what he found? NO CANDY! After threatening to fire her, she gets down on her knees and bargains with her mouth. This guy must be stressed with how rough he is with this poor little teen. Its almost like just wants to PUNISH her. He spanks her, fucks her from behind, makes her ride him, and makes her face look like a glazed donut.
...Read More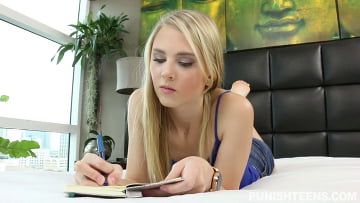 4th January
- Lily wrote some pretty personal thoughts in her diary - from wanting to have a threeway with a guy she met at the gym, to wanting to be tied up, choke
d, slapped around and abused! Luckily for Lily, her boyfriend Bruno came across her diary and saw everything she wrote. He called Lily into the room and made her his bitch - stuffing her slutty mouth with her own diary pages and spitting on her! Bruno bent Lily over his lap and cuffed her, spanked her and finger fucked her tight hole! That was followed by some choking and some rough fucking. Her boyfriend became her master and she even had to ask permission to cum! He even made her write a new page in her diary as he destroyed her from behind!
...Read More