Latest Updates from 'Dyked' at Team Skeet (Page 3)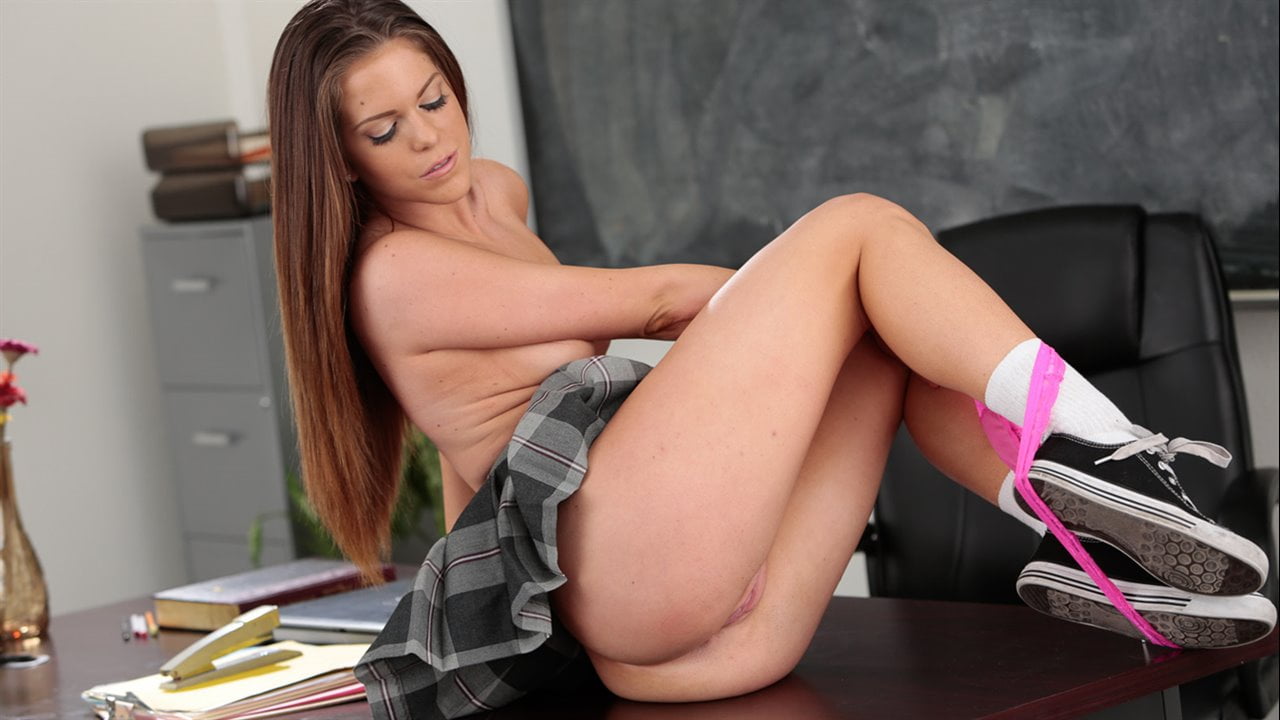 We can all agree that when we were younger there would be times that we thought of school as jail. In this episode of DYKED, The way Drea and Jenna react to the new girl Alice make it seem more like a state penitentiary. It all starts in the locker room, where they notice the fresh meat. They think shes kind of hot, so now they gotta shake her down and let her know the deal. They catch Alice in the classroom studying and dont hold back at all. They immediately slam her book closed and steal her glasses. The proceed to mock her, and throw her against the wall. From there, they decide its time for her to get licked. They bend Alices petite ass over the desk and take turns slurping all the tasty juices out of her pussy that they can. Alice has no idea what to think. Instead of lashing out, she decides to play along, and make them think she liked it. This brought on an onslaught of outrageous dyking. These naughty girls made the longest pussy eating train in their schools history, and tribbed up a storm that not even a 1,000 word paper could describe. Now that Alice has been officially been dyked in, she now has friends she can rely on at her new school, and the best part of it all is they will make her cum whenever she wants too.
Theres nothing like capping off on the phone with your best friends after a long day. Alexis is talking to one of her besties about the wild night she had fucking some new rich stud she had met. Sounds perfectly normal right? Wrong. Alexis is married and should not be letting other dicks double dip that pussy. Luckily, her secret is safe right? Wrong. Her step daughter Elsa was supposed to be out for the day, but it turns out she was just minding her own business on the couch, until she heard what was going on. Elsa moved in a bit closer to hear more of the details and couldnt believe that this ungrateful bitch was cheating on her daddy. This can not go unpunished. While Alexis was sleeping, Elsa stealthily snuck into her room to tie her up. Alexis woke up the next morning in complete bondage, and when she screamed for help Elsa slowly crept out from the corner basking a whip and an abusive agenda. Elsa explains what she heard, and Alexis tries to deny it but its no use. Shes gonna get DYKED and there is nothing she can do about it. Elsa starts by forcefully smacking her ass for every single guy shes ever cheated on her dad with. Then Elsa harshly finger fucked her pussy to the point where it wasnt pleasure, but sheer pain. Then she made Alexis force suck her outrageous purple strap on. She had to choke to know that what she had done was unacceptable. After thoroughly fucking her pussy to a pulp that no man could ever want again, Elsa finally stops and lays down the law. Alexis is her property now, and if she doesnt want daddy to find out about her devious ways, she will do whatever the fuck Elsa says whenever she says it. DONT TRY ME BITCH!
Jenna and Kenna are just getting back from an exciting day of lingerie shopping. They decide to have a little fashion show for each other to get a better idea of how totally hot everything they bought is. Let me tell you, these girls are fucking stacked! Their asses look amazing in super tight panties and their tits are practically popping out of every single lacy bra they go to try on. The final outfits they test are the kinkiest off the whole bunch. All black see thru with a fishnet upper for Jenna and extremely tight garters for Kenna. Seeing them like this will make you want to jump right through the screen immediately. Seeing how hot each of them look in these get ups kind of made them think on the wild side. Jenna then brings up the question wondering if Kenna has ever hooked up with any girls before. Looks like she has not, and neither has Jenna. Getting DYKED is powered by girls, and both of their curiosity is beyond the point of not trying this. They slowly reach in for a kiss. From there, these horny hotties started a titty sucking, carpet munching sex fest. They even whipped out the long pink double dildo for some steamy pussy to pussy action. Not only are they glad they got to fuck each other today, but we here at team skeet are even more glad we got to watch. GET DYKED OR GO HOME!