Latest updates featuring Alyce Anderson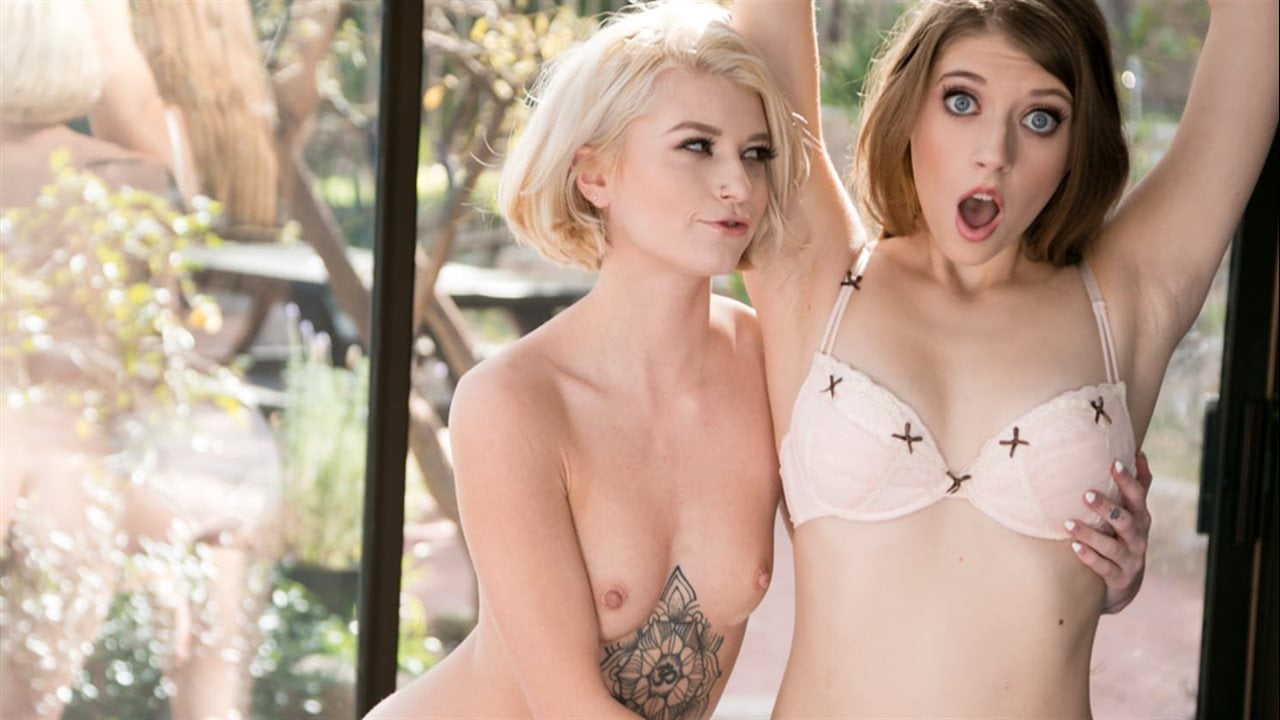 Alyce Anderson and Arya Fae have just finished a class. Arya is walking back to her car to go home when she hears something calling out her name. When she turns around she recognizes the girl but isn't sure exactly who she is. Alyce introduces herself, saying they're in the same class. Arya has an oh ya moment then adds that she's on her way to do some yoga. Alyce would love to do some with her and decides to tag along. The girls jump in Arya's car and drive home. Arya sets up two yoga mats in the living room and starts taking off her clothes. When Alyce asks her what she's doing, she tells her she always does yoga naked. Arya suggests that if she's not comfortable being naked she could just take off her dress. When Alyce asks her if her posture is correct, Arya runs her hand close to Alice's breast making sure to touch it. She finally sits down and begins doing breathing exercises. When they move on to stretching, Alyce isn't sure she's doing it correctly. When Arya tells her that her bra is restricting the energy flow, Alyce takes it off. When they start working on their legs, Arya corrects Alyce on her form but can't help but make a point to touch her. When she adds that perhaps removing her underwear would facilitate the energy flow, Alyce, who is now feeling more at east more, takes them off. When Arya asks Alyce is she knows what tantra is, Alyce tells her she has no idea. When Arya tells her it's using the sexual energy to manifest her destiny, Alyce can't help but be intrigued. When Arya tells her she's can teach her the ropes as long as she keeps an open mind. Alyce agrees and the girls start kissing as Arya leads her down the path of sexual ecstasy.
Chloe Cherry and Alyce Anderson are studying for a big exam but can't seem to stay concentrated on their notebooks, instead they keep checking each other out as the sexual tension between them builds. When Chloe gets ready to leave, Alyce asks for a goodbye hug which quickly turns into more... After making sure that no one else is home, the girls start to explore their bodies together. Chloe's more experienced and starts off by licking Alyce's perky teen titties before slowly making her way down to her young pussy. They strip off each other's clothes and Alyce flicks her tongue against Chloe's nipples before Chloe goes back down between Alyce's legs to pay more attention to that pretty little pussy. Alyce gets more confident and they 69 so they both can get the taste of teen pussy in their mouths. Chloe brings out a dildo and asks Alyce to use it on her tight little asshole and only gets better from there...
College loans aren't going to pay themselves, so Alyce takes her future, and strangers hard cocks, into her own hands to pay the bills. Condoms are necessary in this line of work, but one long time customer talks her into taking it off. Once it comes off, her inner slut comes out and she's begging for Ryan's cum deep inside her young pussy.