Latest Updates from Team Skeet (Page 103)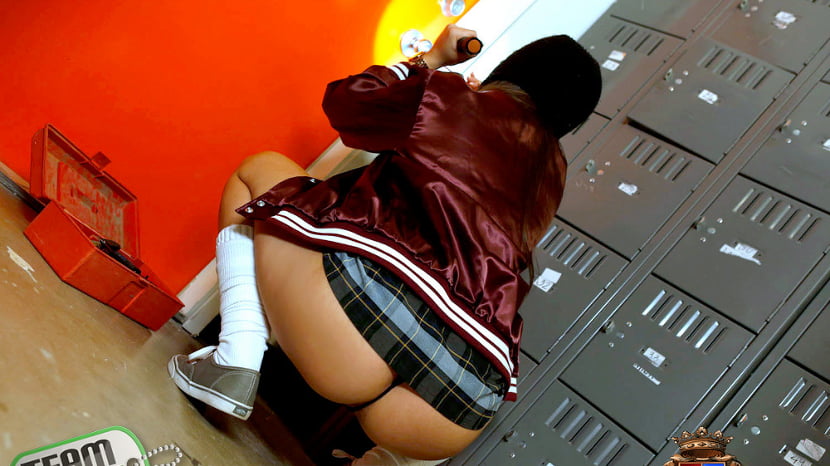 Why is Natalie Monroe sneaking around Innocent High early in the morning? Simple, shes looking for the answers for the big final coming up! Little did she know that Mr. Dickems planned on coming in early today. Natalie was caught red-handed under Mr. Dickems desk and he was ready to call the cops on her for stealing! Natalie cant afford to fail out of school AND have a record so she thought of the only way she knew how to get out of it - offering up her sweet ass. Mr. Dickems couldnt resist and he started sucking on those plump teen titties and before long Natalies slick mouth was tightly wrapped around the teachers swollen cock. Natalies juicy ass and tight teen pussy helped her earn a passing grade in the school of hard cocks and Mr. Dickems gave her a gold jizz star on her mouth and face!
Super tiny Maddy Rose came to us from Mississippi to get a taste of the porn life. Clocking in at 5 foot nothing and only 85 lbs Maddy most definitely fits the spinner category! This sweet southern girl may look like shes never been near a dick in her life - but boy does she know what to do with one when its in her face. This rookie can suck a dick better than some girls weve seen and isnt afraid to shove it down her throat! Her tight young pussy needed a little coaxing but once it was slicked up our boys junk slipped inside nice and easy and gave Maddy the fucking of her life! How do we know? Just listen to the squeals and moans and groans coming out of Maddys mouth and tell us she didnt enjoy herself! Before saying bye to the camera, our boy made sure to decorate Maddys stomach and tits with his sticky man juice for all to see!
I came across Rahyndee walking down the street, high in the hills, looking really lost. I stopped and offered her a ride and thats when I noticed her cute bangs, huge tits and fat booty! She got caught cheating on her boyfriend and was left stranded. Desperate, newly single girl, with an awesome body and an appetite for fucking? I think I just won the lotto! I offered up a little bit of money and Rahyndee was ready to do ANYTHING to get the cash! After a quickie in this secluded spot I took her back to my place and she was very impressed - but thats not what we came for. I laid her down on one of the first beds I found I smashed her tight ass pussy to smithereens! Later I bent her over my couch and fucked her from behind so hard that I shot my load on her ass with immense force! Enjoy this one Team!