Latest updates featuring Alex Tanner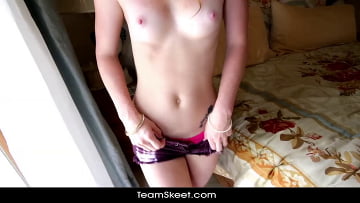 24th July
- Judging by all the comments we received, Alex Tanner made quite an impact with alot of Skeeters. Now you get to see the tape that started it all! Alex
wanted to be a Team Skeet girl, and as soon as she looked into the camera with a fat cock in her mouth we knew this girl was gonna be good! Her fire red hair and freckles make her look innocent, but when she rides the dick like a jackhammer you can see how much of a freak she really is! That last shot of her plump pale booty covered in jizz while twerking stayed with us and now you can see for yourself why we just had to draft her and have her join the Team!
...Read More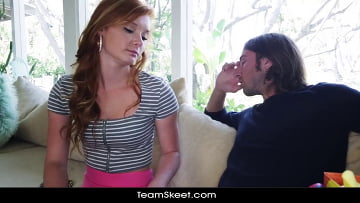 16th June
- Slim, sexy and petite Alex Tanner was making plans when she heard a knock at the door. It was Chad, her sister Nicoles boyfriend, who came over with a
birthday present for his girlfriend. Turns out she went to a party with some dudes and that shes also a big hoe! This all came as a shock to Chad and to calm him down Alex decided to play with his massive cock. Her pink nipples matched her pink skirt and her pussy was better and tighter than her sisters. She was even game to take a shot of jizz down her throat! Looks like he should trade-in sisters!
...Read More