Latest updates featuring Natalie Monroe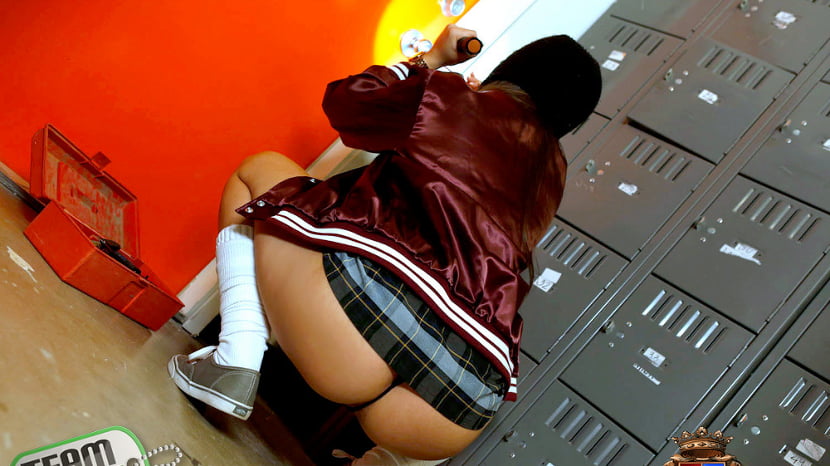 Why is Natalie Monroe sneaking around Innocent High early in the morning? Simple, shes looking for the answers for the big final coming up! Little did she know that Mr. Dickems planned on coming in early today. Natalie was caught red-handed under Mr. Dickems desk and he was ready to call the cops on her for stealing! Natalie cant afford to fail out of school AND have a record so she thought of the only way she knew how to get out of it - offering up her sweet ass. Mr. Dickems couldnt resist and he started sucking on those plump teen titties and before long Natalies slick mouth was tightly wrapped around the teachers swollen cock. Natalies juicy ass and tight teen pussy helped her earn a passing grade in the school of hard cocks and Mr. Dickems gave her a gold jizz star on her mouth and face!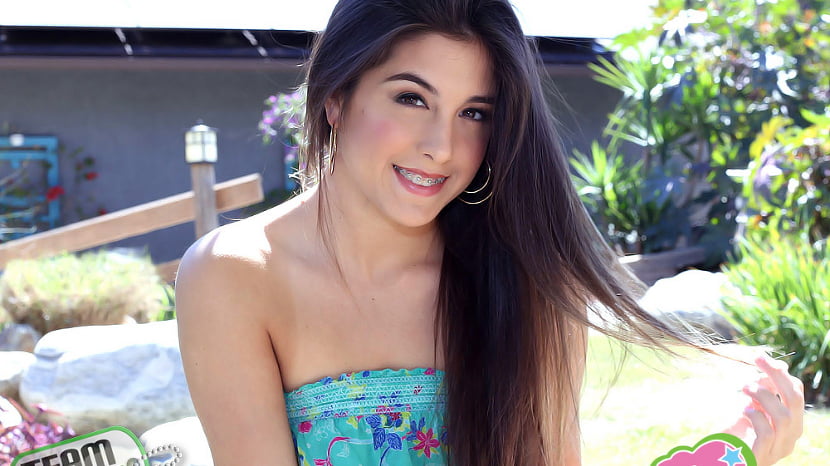 She stormed onto the set after her first scene with us, now watch how things really got started for our cutie with the braces, Natalie Monroe! This 19 year old, 5 foot 4, half Mexican, half White bombshell loves to watch porn, tanned guys with tattoos and getting drilled doggystyle. Our boy gave her just that and went nice and deep inside of her to leave her with quite the impressive river of semen that spilled out of her throbbing pussy. The cleaning bill for that rug mustve been a doozy...
Natalie was having some car trouble and her dad sent a mechanic friend of his over to the house to take a look under the hood. What he didnt notice was Natalie taking a good look at him too. He was regretting taking the job until Natalie brought him inside for a cool drink of water - and a blowjob! This 19 year old fat bottomed teen, with long black highlighted hair and braces, was no stranger to the dick, and tempted him until he could take no more. She was happy to get railed from behind on the family couch and she asked if he came inside her. But all she had to do was look down at the thick trail of cum dripping out of her swollen pussy to find her answer. Drip, drip Natalie!


Natalie was just trying to sneak into her boyfriend's bedroom to get a mouthful of his big cock, but of course his father was there to cock-block her. Mr. Sins took Natalie aside, and found out she was just horny, and in need of some male attention desperately. After Natalie showed Mr. Sins how the teen sluts of today suck cock, he bent her over to slam her tight pussy. Natalie rode his cock on the sofa and bounced her juicy butt on his rod until she orgasmed hard.
Hottie Natalie Monroe isn't afraid to let her man call the shots as she strips down and enjoys a big boob massage down by the pool. After peeling off her thong with plenty of bottom squeezing to encourage her along, Natalie is so hot and horny she can hardly wait to get it on!Natalie's man whets her appetite for a good climax by giving her bald pussy a good licking. When he's done eating her out, she gets down on her belly to wrap her puffy lips around his cock and give him a long wet blowjob.When they finally come together, Natalie sticks her lush ass up in the air to take her guy doggy style. They change things up, with Natalie finally riding her beau cowgirl style until she screams her orgasm! Instantly wanting her man to cum too, Natalie uses her talented hands and eager mouth to send him over the edge all over his belly, leaving a pool of delicious cum for Natalie to enjoy from her fingers.
Natalie Monroe is...adorable. She's young, has braces that her smile doesn't shy away from, she's got a tight little body and she's horny as hell. She's been sitting in her room all day bored as can be and things change when her denim-clad cowboy, step-father, Ryan, shows up, fucks her and cums on her braces, then leaves...