Latest Updates from 'Innocent High' at Team Skeet (Page 4)


Elektra had one job - to pass out all of the fliers that Mr. Mclane had asked her to. Seems simple enough right? Well, not for Elektra! After a few fliers she tossed them up in the air and quit! But she didnt know that Mr. Mclane was following her every move. Knowing she was screwed she tried to get out of trouble by giving the teacher a screw! She dropped to her knees and wrapped her mouth around Mr. Mclanes meaty hog and Elektras tight teen snatch was smashed from all angles on the teachers desk until he finally dropped his load over Elektras plump teen tits!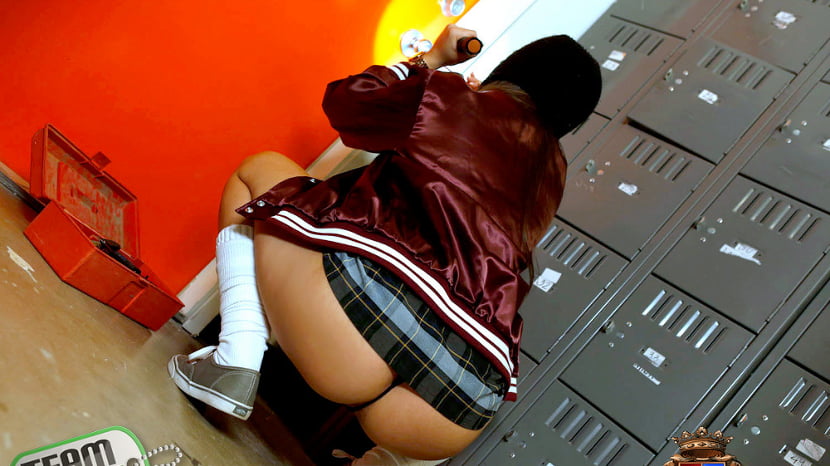 Why is Natalie Monroe sneaking around Innocent High early in the morning? Simple, shes looking for the answers for the big final coming up! Little did she know that Mr. Dickems planned on coming in early today. Natalie was caught red-handed under Mr. Dickems desk and he was ready to call the cops on her for stealing! Natalie cant afford to fail out of school AND have a record so she thought of the only way she knew how to get out of it - offering up her sweet ass. Mr. Dickems couldnt resist and he started sucking on those plump teen titties and before long Natalies slick mouth was tightly wrapped around the teachers swollen cock. Natalies juicy ass and tight teen pussy helped her earn a passing grade in the school of hard cocks and Mr. Dickems gave her a gold jizz star on her mouth and face!
Maci Winslett was in trouble of not graduating and she needed to make up some credits. After looking at the buttload of stuff she was being asked to do Maci instead suggested an exchange. Some good head and tight teen pussy for a C in the class. Who can refuse that offer?! Maci worked her teachers pole with her mouth until he almost blew, but she knew how to keep him calm and shoved that cock into her vice of a snatch! Maci got annihilated on the desk, the chair and every corner of the classroom until her teacher shot his jizz on her face and in her mouth. Maci even sucked out the last bit and worked herself up to a passing grade!