Latest Updates from Team Skeet


Aria Lee is in the middle of a phase. She is a party girl. But this time, her stepbro catches her coming home at 5 in the morning. Her excuse is she was out late last night. DUH, Aria! Her stepbro is not having it. For some reason, he has a bullhorn and he is threatening to blow it because he is just not that chill. Aria sees the game he is playing, and cuts to the chase. Is this what you want, she asks him as she puts his hand up her shiny dress. The next morning, he follows through on his threat and blows that bullhorn to wake Aria up. He tells her that she has to do chores before their mom gets home. She gets down on her hands and knees like a good stepsis, but he decides to offer her a deal. He will do the rest of the chores if she lets him fuck her again. She happily obliges. A couple days later, Aria is hanging out in bed when her stepbro comes in and bares his soul. He tells her he has been being mean because he has a crush on her. She says she is happy he is expressing his feelings, but he needs to man the fuck up. So, he does, by letting her ride his pole at a perfect orgasmic pace until he splashes his load everywhere. How mature!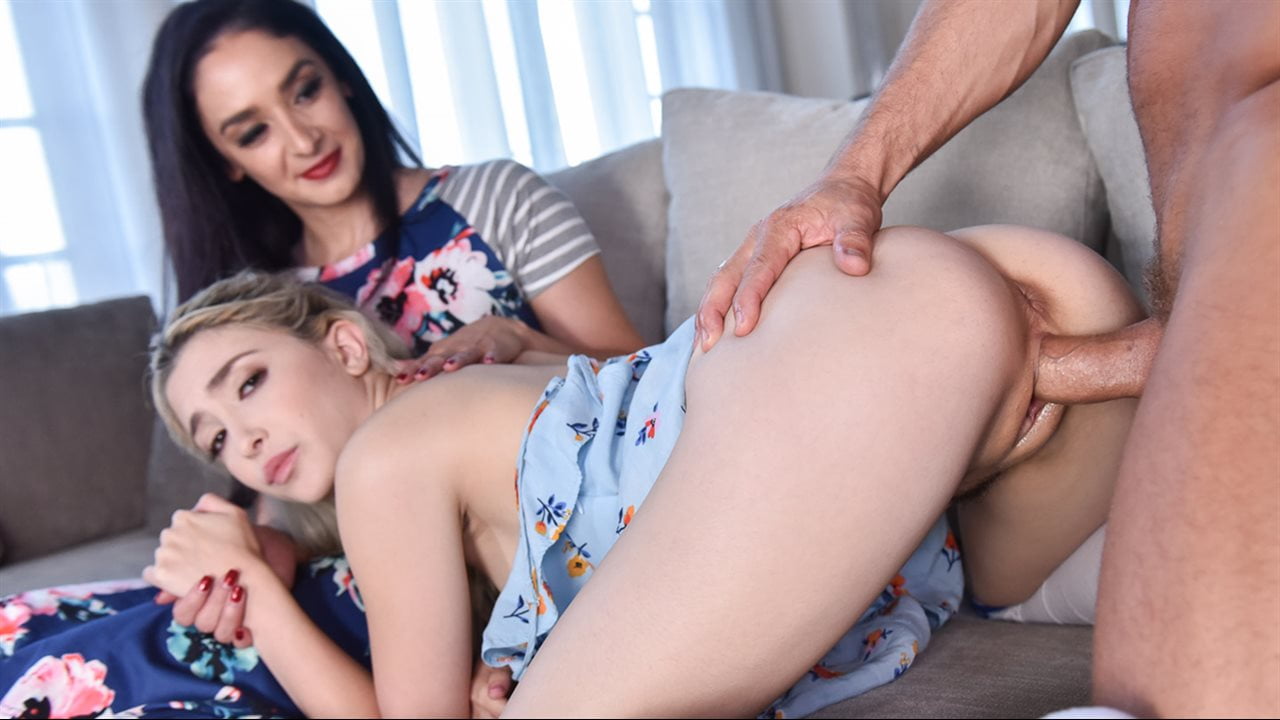 When is the last time you saw a landline phone? The 90s? Well, Jane Wildes family has one, and they just found out her date cancelled on her. Luckily, her thoughtful stepdad consoles her in her bedroom and Jane perks right up. They go for an ice cream cone in the backyard together, and Jane licks her scoop seductively for her stepdad. Then she drops the bomb. Before she goes to college, she wants to have sex with him! Her stepdad is a little flustered, but when he tells Janes mom, she is into it! She figures, if my daughters going to be fucking, better for her to do it in the house! So Janes mom sets up the video camera and watches as Jane cutely asks her stepdaddy to fuck her mouth. Her stepdaddys curved cock fits perfectly in her young, inexperienced throat, and then slips perfectly into her tight hole. He breaks her hymen and takes her virginity while her mom tells her not to fight it. Then she sucks her stepdaddys dick like it is the ice cream cone they had earlier. This is one weird family! Do you want to see Jane Wilde back soon? Let us know in the comments!
What a beautiful day at the beach. Jasmine Grey is in her rainbow swim suit, looking like a petite, sexy snack. She is playing in the sand when our stud walks up to her and kicks down her sand creations. What a mean guy! But Jasmine gets over it quick, because she can tell what kind of sea snake this stud is packing. She heads back to his cabana with him and proceeds to give him head like the beach babe she is. She looks back at him through big cute glasses while he shoves his giant rod in her tiny slit. Then she supermans on his cock as he holds her up and rams her from behind. What better way to end the day then with an extra heaping of sunscreen on Jasmines face. Wait, thats not sunscreen! Do you like the way Jasmine plays? Let us know in the comments!