Latest Updates from Team Skeet (Page 6)


Alexis Avery keeps her cards close, careful not to share too much about herself during her audition. She tells our cameraman that shes from the east coast when he asks where shes from. And when he asks if she has a boyfriend, she lies and says no before admitting the truth. She has a boyfriend but he does not know what shes up to. Shes eager to get some dick inside her, crawling over and sucking his dick, getting him ready for what comes next. She loves to get fucked in the missionary position and hes happy to oblige, fucking her from behind. She likes foreplay sometimes, but other times she wants to cut to the chase and just get fucked hard. With a perfectly manicured hand, she wipes the cum off her lips and smiles, confident that she nailed the audition. Or maybe got nailed? Either way, shes excited to become a Team Skeet girl.
Johnny Castle is grooming his son to become CEO of his company one day. The first lesson is dont just have one assistant, have three, and if possible make sure they are all different ethnicities. Adrian Hush, Sarah Banks and Sami Parker are all standing in the corner, waiting for his command. The second rule seems to be, make sure that the assistants are willing to assist with more than just paperwork. And if they happen to be interns, even better because they are more likely to do as they are told. Mr. Castle fucks the hell out of all three of them, filling their holes atop a filing cabinet. He makes the girls tease his son by flicking their panties at him. Before they were interns maybe they were cheerleaders because they sure know how to build a human pyramid. He really shows his son how to take care of business when he finishes and cums in the girls mouths. They are on the hands and knees, worshipping his cock and sharing his load. His son might become CEO one day but for now, it feels good to be the king of this castle.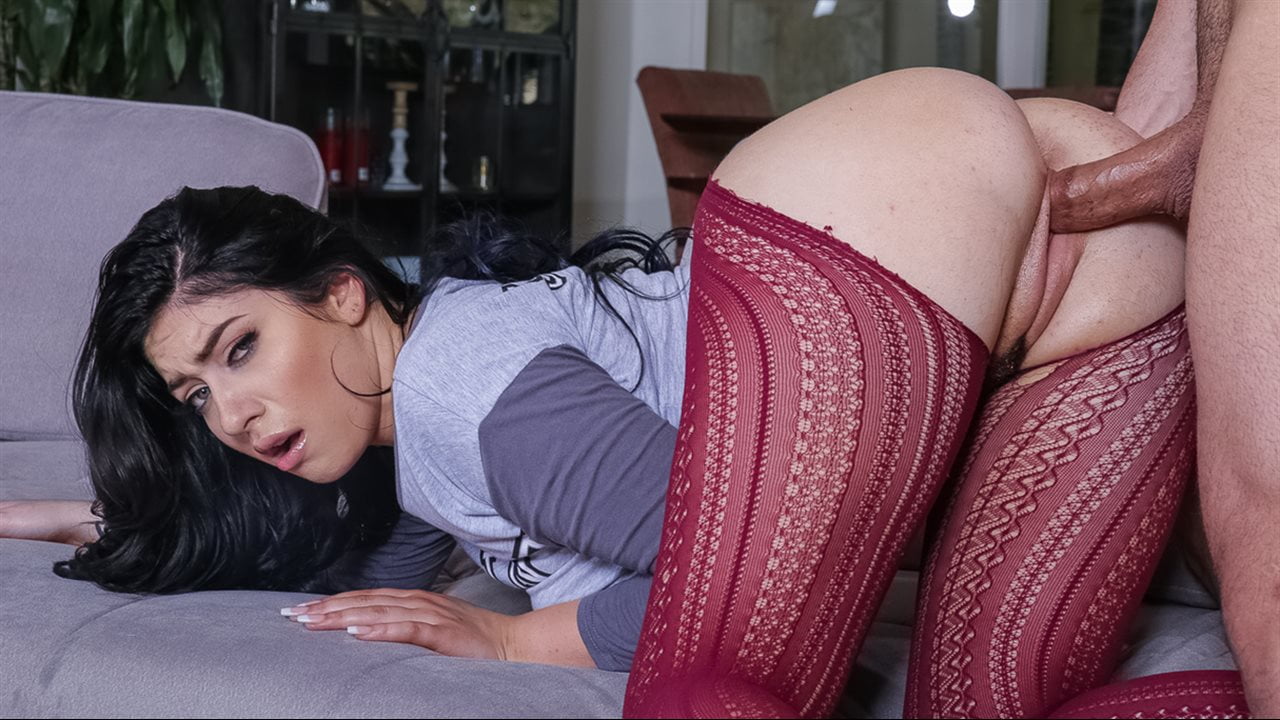 Amilia Onyx is a curvy teen with jet black hair, a thick ass and bouncy tits. She answers the door wearing sheer leggings and a thong. She takes him outside to show him the pool. He thinks its amazing but not as amazing as that outfit. She gives him a little show, bouncing that big jiggly ass all over the patio furniture. On her hands and knees, she crawls into the house and onto the sofa, hypnotizing him with the rhythmic sway of her hips. When she loses the thong, he loses his mind, no longer able to resist. He rips her leggings and exposes her pussy, giving his tongue and his cock a point of entry. This big girl loves cock and it shows. She cant get enough of it. Hes so turned on he pours oil all over her and then eats her pussy like a salad. He fucks her good and hard, making her moan. When he blows his massive, creamy load all over her face, he gets jizz in her eye AND her hair!