Latest Updates from 'Bad MILFs' at Team Skeet


Ella Knox pretends to be her stepmom Mckayla Cox and texts one of the local hunks to come over since she is all alone. When he arrives, he is surprised to see Ella there waiting for him. She explains that she had saw him getting a blowjob from Mckayla. She threatened that if he didn't stop seeing her mom that she would tell her dad. The hunk actually said that her father was the one who organized the whole ordeal. This left Ella confused, but the hunk offered to make keeping it a secret worth both their while. Ella started gagging on his cock. Her stepmom was watching what was going on from a distance, and it made her pretty damn horny. The next day ella was hanging outside while her mom was getting fucked in the living room. They posted signs on the door saying she could go join, and after a few minutes she could not resist. Mckayla and her stepdaughter shared this young hunk and allowed his cock to defile them in no way no penis ever has. Let's hope they remember to clean that young cum off their face or papa will freak!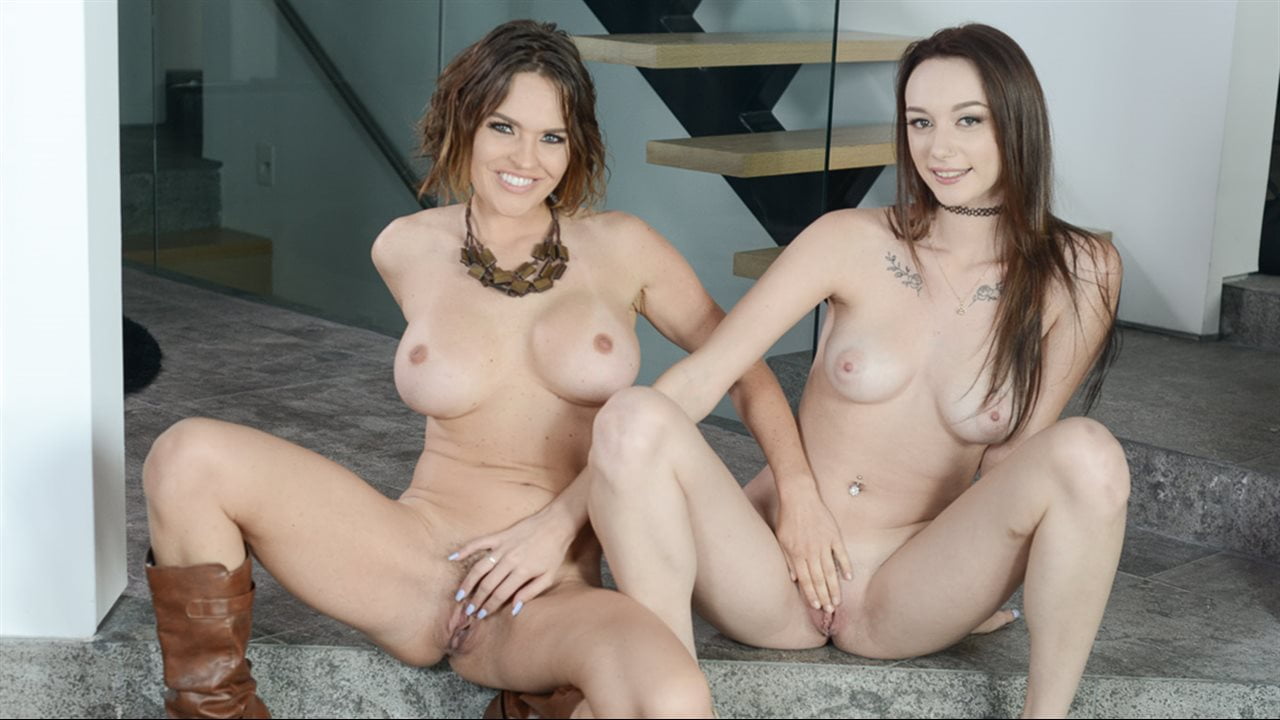 Krissy Lynn is enjoying a lovely barbecue with her stepson and his girlfriend Avery Stone. Krissy couldn't help but feel that the only thing hotter than the grill was Avery. She needs to get her alone, so she volunteers the girls to go and get more drinks, which turned into a pussy eating extravaganza in the hallway. Good thing they finished up right before stepson came wandering because he was thirsty. Now that drinks were refilled and stepson was hydrated, he had to rush to the restroom to relieve himself. Krissy was still super horny and decided to follow him for some more sexual healing. Sure enough her stepson couldn't resist and fucked her dirty style right there on the toilet. A few days later stepson comes home to see Avery and his stepmom chattering over a picture that went viral. They ask stepson to take a few more of them hoping to gain a bit more internet fame. Stepson proceeds to take pictures of his stepmom and girlfriend getting provocative with each other. This leads to the girls sharing his cock in their mouths then taking turns riding his long stiff dick. Stepson ends it by cumming all over his girlfriends pussy and watching it drip down onto his stepmoms face.
Brenna Sparks was excited to introduce her new boy toy Johnny to her stepmom Richelle Ryan. Brenna gave them a few minutes to get acquainted, and Richelle may have came on a bit too strong. She gave Johnny no choice but to let her see his cock and let her suck it. He's usually a loyal man, but when a hot milf asks to suck your dick you better not pass it up. They finished up just before Brenna came back from the other room, then had to head out for their date. Once they got home later, love was in the air and Brenna was craving a nice rough fucking. Johnny pounded her so pleasantly that she fell right to sleep after, but in the other room Richelle was restless. She tiptoed over to Brenna's room then slowly went inside to caress Johnny's meaty cock. She was quiet enough to keep Brenna asleep, or so she thought. Brenna was stroking her pussy to the sounds of her stepmom getting fucked. Johnny eventually caught Brenna with her eyes open, and she broke the news to him that sometimes she likes to share with her stepmom. From there this stepmother daughter duo took Johnny for a ride, leaving him baffled by their sharing ways and drained of all the cum he could conjure.