Latest Updates from 'Teen Pies' at Team Skeet (Page 2)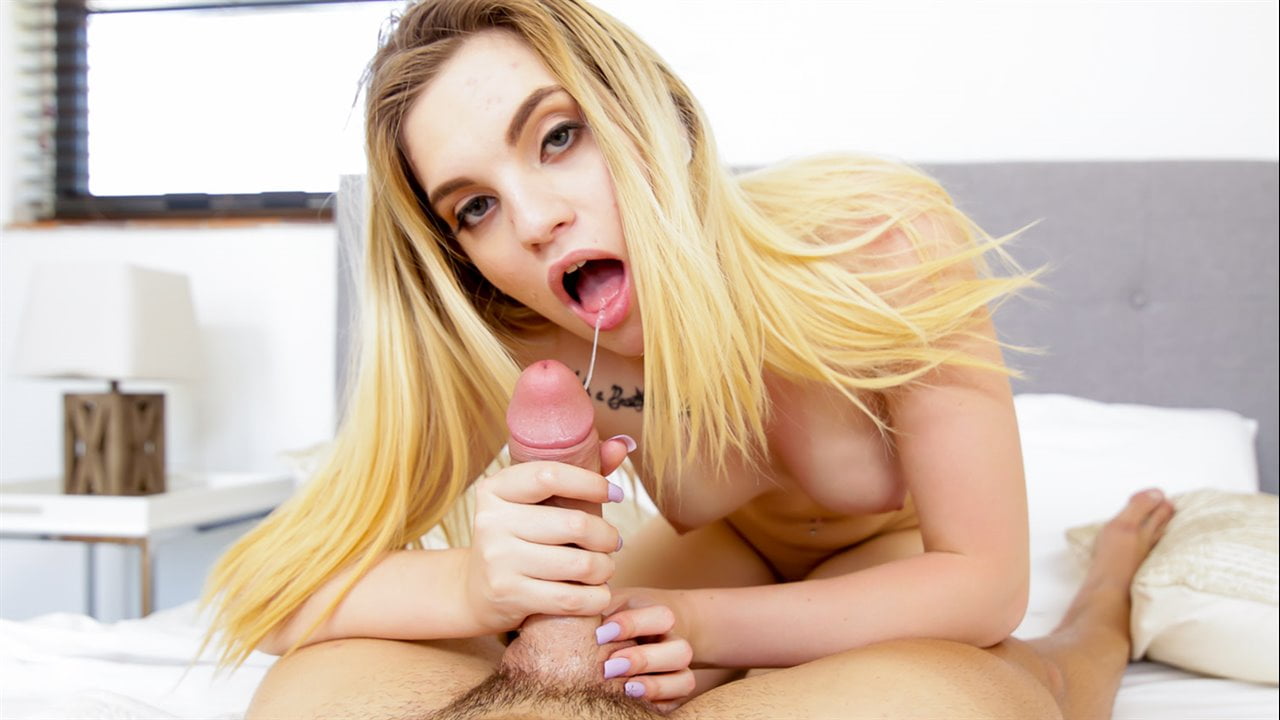 Fun is stunning from head to toe. She has a beautiful face, long blonde hair, and a perfect 10 body. Her parents left for vacation and it seems that her wifi phone connection isn't working. She thinks that her parents may have disconnected her phone or the internet. She is desperate for this connection so she starts looking out the window to see if anyone can help her. Just then, she sees her neighbor Pete taking out the trash. She opens her door and gets his attention. She wants him to help her figure out how to have her wifi back on her phone. He says he is busy and needs to go, but the plea of a really hot girl swayed him into coming to check the situation out. He discovers that her cables were in fact unplugged by her parents. While he is in the closet fixing this, he can't help but notice how sexy Crystal is. Soon, he is sitting next to her and is obviously turned on. Crystal picks up on this and starts to feel up his dick. She strips out of her clothing to reveal perfect tits with nipples you want to suck and bite. Eventually, her neighbor is fucking her in every position possible. The sex is hard, hot, and deep. Unfortunately for this hot blonde teen, it ends with an internal creampie. He wasn't supposed to cum in her, but it's too late now!
Davina Davis is one stunning and exotic beauty who is sneaking her boyfriend Jake into her home while her parents are gone. They are going to get nasty with each other, but first they need to find a condom. Davina has no idea that Jake has no intention of sheathing his snake. Jake wants his snake to spit venom straight into her pussy. Naturally, he does find a condom in her home, but promptly hides it away as this would stop him from spooging inside of her. After convincing her that there isn't a condom in the house, they head to her room where she starts grabbing his dick and making it stiff. She then starts giving him head and this is a blowjob that is not to be missed. She is going up and down on this thing so fast that she looks like a pump action rifle. Next, Jake strips her perfectly tanned body and you get a great look at her goods. Then he starts fucking her deep in missionary and then in doggie. He grabs her ass hard as he is stabbing her pussy from behind. Finally, he is really getting fired up for the creampie surprise he is about to unload inside of her. He gets deep in her pussy from behind and lets out a groan as he busts a huge creampie into her. The best part is he spits on her ass and make her think he pulled out and blew a load on her butt. She figures this out later when cum is dripping out of her pussy, but of course Jake and his trouser snake were already running out the door.
Aaliyah Hadid overheard her sisters boyfriend fighting with her sister. The argument was about him not getting to fuck her without a condom for over two years. Offended and angry, he storms into the room where the sexy Aaliyah is sitting. He asks if she heard their argument. She said she did and that her sister just wasnt a risk taker like her. She then popped one of her tits out of her sexy leotard outfit. This gets her sisters boyfriends attention. He is a little reluctant to make any advances towards her, but she lets him know that is exactly what she wants. She then gets really aggressive and puts his dick in her mouth. He is quivering from being so turned on. She talks like a slut while offering to take care of his needs that her sister so coldly ignored like a prude bitch. Her sisters boyfriend cannot take the how hot Aaliyah is. Her sluttly mouth isnt helping either, but her tits actually do more and more of the talking for her. She offers to let him fuck her without a condom as long as he doesnt cum inside of her. She loves bareback fucking, but she doesnt want a creampie. Her sisters boyfriend has been deprived the feeling of pussy without a condom and cant get enough sex without out one. He fucks his girlfriends little slut sister mercilessly as if he was angry at her for not giving up pussy to his unprotected dick. Aaliyah loves letting her sisters boyfriend use her as a fuck rag. She loves getting bent over and fucked while talking really slutty like. She is getting pounded from behind and then notices a huge warm load inside her. She freaks out because her sisters boyfriend forgot to pull out in his enjoyment of unprotected sex. Aaliyah is so hot when she is pissed off and dripping cum out of her snatch, an amazing site to see!